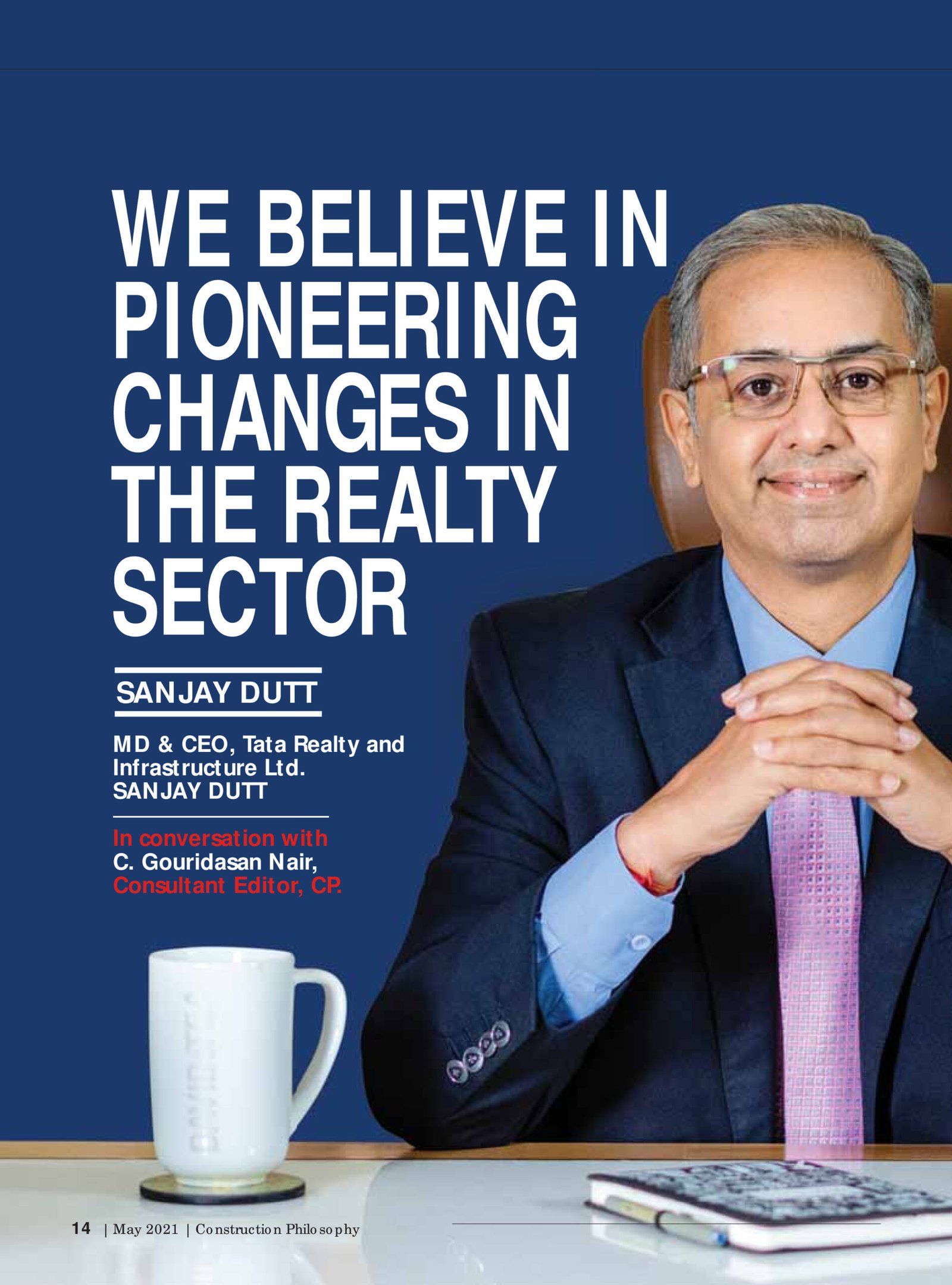 The housing sector contributes roughly 5-6% to the national GDP. The pandemic has been quite hard on the real estate sector and you were at the centre of the storm in a certain sense. Tata Housing has its footprints all over the place. How did it hit you? How did you strategize to ride out of this situation?
Mr. Sanjay Dutt: The real estate sector has been going through dramatic changes over the past 10 years. First of all, the sector is now well-regulated. Then there is the issue of excessive speculation. When a sector goes through its cyclical downturn, it gives rise to excessive speculation, which is itself a result of supply overhang. Again, if you look back, the concentration earlier was too much on the mid-housing or luxury sector, or what started as an affordable segment but became luxury by the time the projects were completed, because the prices kept going up.
When we went through these motions for the first time in the history of the real estate sector and my own professional career, the graph began pointing downward. In fact, both the economy and sector graph were down at the same time. On the regulation side, our projects are dependent on over 200 permissions. Think of any State or Central agency, be it Fire Department, Police Department, Municipal Corporation, State Electricity Board, we are required to take permissions from all of them.
The situation was also getting complex with digitization and awareness among the people about their rights. And all this was happening against the backdrop of very negative perceptions about the sector, especially the developers. As per RBI reports, the real estate sector makes a major contribution to the GDP and this is done through Property Taxes, State taxes, Stamp Duty or Registration Fees or ESI premiums. Still, everybody has a negative perception of the sector.
I wouldn't say that is without some reason. But we were all being painted with the same black brush. So, in short, because of all this, we were already in a crisis management mode when the pandemic hit. We realised that this is worse than a normal crisis because it is global in nature. Even today, we are not able to fathom its magnitude because it's still ongoing. If you don't get a loan, that event has ended. But here, the event is ongoing. There is no end to this event. So, here we were, in a state of uncertainty and volatility!
This happened when we were all looking forward to some consolidation in the sector. We thought that would bring in greater transparency and corporate developers and the more disciplined developers will do better. At Tata Housing, we were in a transition phase. We were getting ready to roll out our revised strategy. We were across 17 cities when we started working on it three years ago. Our strategy was that we will be in top five cities. We were in residential, office, shopping centre and hospitality. We decided to sell shopping centres. Within residential, we were present in all kinds of segments. We decided that we will focus on affordable, medium and luxury and not second homes.
And more specifically, we decided to step away from the government-defined 'affordable'. As a Tata group company, we believe every citizen of this country is entitled to the same quality of life, irrespective of their pocket or class differentiation. If you go to our luxury projects in Bengaluru, Delhi and our affordable projects, you will find the same amenities at all those places. Some would be bigger, some would be smaller, but our affordable project will also have a gym and wellness centre. Emotional wellness is also key to us. There will be some amenities and area for senior citizens and facilities to collaborate and work as a community. The same will be available in the luxury projects.
There is a general perception in our society that affordable housing means cheap homes for the poor. In my opinion, any person who buys according to his or her financial capability is indulging in luxury. It is the most important decision in their life. Why should we categorise them as lower-class or as the affordable segment and segregate them from the so-called luxury segment? There is no need actually. These are just man-made divisions. We were certain that we should address their aspirations. Therefore, we came into the bracket, which was more in the Rs. 35-45 lakh onwards segment because, when you want to provide the quality which the Tata brand stands for along with certain kinds of amenities, then you have to provide this much at least.
Our strategy was to simplify, to reduce the number of cities and the number of segments where we wanted to be present. That's how we were in a consolidation mode. The pandemic has only accelerated the process. We also took a call three years ago to do accelerated construction of all our projects and deliver fast. We achieved that brilliantly during the last three years. Since we were building fast, more than 60% of our inventory was ready to move in without the burden of GST. The customers could touch, feel and experience before taking a decision; enjoy the pleasure of moving into one's own home without waiting. That is our philosophy. On the other side, of course, we continue to do commercial and we have been growing consistently.
Hasn't the concept of 'home' changed with the pandemic? Home is not just a living space, but also a workspace today…
We have been emphasizing on wellness even before the pandemic. Look how important it has become now! Not only that, emotional wellness has also become critical. At Tata Realty, all our buildings are certified GREEN which mandates that we use local materials and sustainable ways of design and planning as far as possible to have a lower carbon footprint. While all our projects are LEED certified, majority of our projects actually are now Platinum rated. The pandemic has emphasised the need for self-reliance and it is also compelling the real estate industry to look at wellness as a major priority area of building design and construction. Hence, by going local, we are limiting the spread of the pandemic to a certain extent.
We have spent more on technology and quality keeping sustainability in mind. The way I see it, it will become the basic norm, going forward. However, we have been ahead of the trend and have been doing it for the past 12-15 years. In fact, Tata Realty is one of the few Indian developers that have acquired the WELL Health Safety rating created by the International Well-Being Institute (IWBI), in line with its commitment to the stakeholders. We recently announced the collection of the WELL Health-Safety Rating for our operational portfolio of commercial projects across Gurgaon (Intellion Edge), Mumbai (Intellion Square – TRIL IT4) and Chennai (Ramanujan Intellion Park) through the International WELL Building Institute (IWBI).
So, there is nothing new in it for you?
For the Tata Group, it is raising the bar from an already elevated position. We are setting our own standards.
What about your resources in terms of deployment of technology and human resource?
We were always the pioneers there. Needless to say, Tata as a group has been a pioneer in many sectors. You have been hearing about small ticket size apartments and affordable housing for the past 4-5 years. However, we launched an affordable brand 12 years ago titled 'Tata Value Homes'. Our project became an impressive case study in the industry. The Tata Group philosophy is to take care of the masses equally and we strive to achieve that every day.
A few years back, the real estate or even the construction industry as a whole was considered one of the laggards in technology adoption. The tech adoption in most cases was restricted to an upgrade from Tally to SAP ERP system, mainly focused on the needs of finance and accounts functions. However today, the real estate sector is truly riding the technology bandwagon and implementing innovative solutions which are likely to reshape the future of the industry.
In the post-pandemic future, we can expect integration of touchless technology in common/public areas, designing buildings in such a manner as to curtail spread of pandemics, additional design changes that ensure decentralization of amenities, adoption of central concierge desk and a greater use of technology to ensure safety and wellness.
Does this mean that this pandemic had no new lessons to offer for you? 
Yes, mostly on the technology front. We were the first to do a 3D precast pilot project in Mumbai 7-8 years ago. This is not just precast, but 3D precast. It is not just slab and walls, but units stacked on each other. Even on a commercial site, we use 13 MERV filters for superior indoor air quality, for instance in our Ramanujan Intellion Park, Chennai, designed some 10-12 years ago. Today, other developers are now installing air filters because of the pollution in Delhi whereas we are moving to the next level already.
We were one of the first Indian developers to digitalise our business functions and that reaped us great dividends. The sales and marketing functions were the early proponents of tech solutions in the new normal. Gone are the days when you needed to move out of the comfort of your home to search for properties. Right from checking out authentic reviews of new projects to joining groups and having a detailed discussion of the amenities, developers have been using the social media platform innovatively to advertise properties and reach out to the right target audience.
Some of the prominent technology solutions used are AI/ML based recommendation engine based on Natural Language Processing (NLP) for improved target segment marketing, and Chabot & Virtual Assistant that facilitates early customer interactions. Physical walk-ins have been replaced with virtual walkthroughs and state-of-the-art AR/VR tools today provide end consumers a sense of space and help make informed decisions.
The next avenue for our industry is digital projects, which simply means use of technology to deliver projects. This is a fundamental shift in how a project is designed, constructed, operated and decommissioned. While few technologies have seen good adoption, quite a few are being robustly evaluated for value deliverance. The tech interventions in this space include Drone Technology which facilitates surveillance, inspection and topographical surveys and Cloud-enabled Collaborative Design Process which enables multiple partners to work on the same design real time.
My understanding is 13 MERV would mean that you were far ahead of your competitors, more than meeting the basic LEED certification requirements… 
I think you have touched upon a very important aspect that we should discuss. We don't do development to merely gain certification. We want to promote wellness. We want to ensure the health and safety of the people. And that is a constant challenge. You will be surprised that while we are already Platinum rated, we have continued to invest to upgrade those. We could have just not invested the money and continued to stay where we were as Platinum is a decent certification. Although Ramanujan Intellion got into the Guinness book, and it was a pleasant surprise for us, that was not the intent.
Think of 40,000 people working in a park, day-in and day-out. When we build something for them, we should see ourselves as community managers and not just developers. You have to look after the community. And that approach, discipline and respect for the vendors cannot be overlooked because they are not part of that community. The employees, whether security or housekeeping, project managers or engineers or MEP guys, they are all part of the community. We need to provide for all of them.
The protocols and processes that we put in place paid rich dividends for us during flood and cyclone that brought life to a halt in Chennai some years ago. The entire city of Chennai was flooded, basements were overflowing. There was talk last year that if your internet is down, if you are caught in a flood or if your business is disrupted, go to Ramanujan Intellion Park because that's the driest place with internet, power, and everything fully functional during cyclone.
Natural calamities and the pandemic have thrown up many new challenges before you, including possible changes in habitation patterns. Where would you peg your bar next?
Tata Realty has an exhaustive standard operating procedure for disaster and pandemic management, which has been specially created to effectively deal with situations arising from a pandemic, cyclones/ monsoon-related incidents, earthquakes, wildfires, landslides, etc. It enumerates broad responsibilities of the different stakeholders and the facility management department, and lays down the sequence of actions to be taken by the department and the institutional mechanism for co-ordinated actions. For instance, our teams take several preventive and proactive measures to help prevent landslides near our project sites such as Myst, near Kasauli. The landslide mitigation and control measures that we adopt depend on the detailed investigations, including identifying causative factors.
We are committed to help ensure greater protection of our communities from the pandemic by adopting best practises, technology implementation and contactless entry/ exit into our properties for all our residents. A standard operating procedure for prevention, preparedness and response to COVID-19 and emergency resources is always updated and maintained at our buildings and offices. We are monitoring the Coronavirus (COVID-19) outbreak closely, collecting all the relevant information from government and medical authorities, adhering to protocols from the ICMR/WHO and subject experts and, given the concerns shared by our residents in the light of the evolving COVID-19 situation, these factors have become even more crucial.
Life in the real estate as a sector, as you know, has been marked by high cost of compliance with regulations which, fortunately, companies like us were already doing. But now the costs have gone up even higher. While the government has made the sector transparent and regulated, it has failed to regulate itself. If RERA is given the jurisdiction to regulate Municipal Corporations and the Town and Country Planning Departments of every State, it would have been appropriate, but that is not the case. Nor is there a single window clearance system. As a result, the compliance cost is quite high. The minimum wages too have been going up.
The steel and cement market, whether you wish to call it cartelization or excessive control by a few dominant players, is adding to the costs, putting a big question mark over viability of real estate. Since our sale prices have not gone up, the developers have been absorbing the additional costs. On top of this, India is one of the most expensive places when it comes to cost of capital. The average developer must borrow money at 12% or 15%. Tatas and other AAA companies get capital rates that are in low single digits.
To sum up, the cost of capital, construction and materials have all gone up and prices have come down. There's pressure from the top and there's pressure from the bottom. Margins have got squeezed. Compliance and time taken for approvals have gone up; which means holding-cost is high when you buy land and if you don't build in the next three years or so you end up in the red.
As a sector, we have been facing several such challenges and have had to find ways to become viable. In order to become viable, we embraced digitization, smart systems and tools and outsourcing. Thus, instead of having your own departments and going in for backward and forward integration, we outsourced. We began to have pay-and-use services instead of building unnecessarily expensive infrastructure of our own. We also went in for scale in fewer locations so that our ability for bulk procurement became greater and embraced technology to compress the construction time. These five or six initiatives have improved the viability aspect of real estate.
In the end, you also should have the ability to sell faster. Many people talk in terms of corporate developers versus local developers. In my opinion, any developer who has corporatized or made the systems, processes and the organization professional is a corporate developer. That means a very agile, lean and high-performance team instead of a large organisation with backward and forward integration that is vulnerable to market fluctuations.
The other thing is, earlier this sector was 70% to 80% dependent on debt because debt was cheaper than private equity. Private Equity expects 20-25% returns. Those days are long gone. What you get today is 10 to 15% margin. So, if you get 10 to 15%, then, ideally, debt should be at 5 or 6%. If debt is 15% and if the private equity also expects 20%, how will you make a return? Market fluctuations, volatility, costs, inflation and approval time make it difficult.
In short, we as an organization have moved to this next level– my entire business intelligence, entire organization, enterprise framework is on the cloud and accessible real time. Every function-head and geography-head, every function pump lines, projects, estate, marketing, sales, you name it, everything is digital and online. We don't do presentations anymore. We login, we go through the graphs and pie charts on the enterprise server. We also conduct our meetings and reviews online. The only thing missing is what the IT companies have done, remote working, of business being done in the US and you remotely working out of India, a kind of work from home.
In terms of being agile and evolving to suit the prolonged work-from-home culture, which was a shock for Indian offices, we have already prepared Gazebos and are providing flexibility options with WFH to our employees. The culture of the organization is to care for its people so they can be at their best and we are focusing on enhancing usability during this pandemic period without putting additional stressors on our most prized asset, our employees.
The IT companies were well-prepared, and they have survived. But the non-IT companies were not prepared. Fortunately, since we implemented the digitization last to last year, actually in 2019, we were able to adapt quickly and grow during the pandemic.
We are also seeing the Institutional Investment coming in a big way into the realty sector. How is it benefiting the industry? Is it bringing in more stability or more speculation?
I think the first generation of institutional investment was way back in 2005 and 2008. During that period, roughly $27 billion came in through private equity, debt and IPOs, etc.  Globally, the real estate market suffered later and India was no exception. A lot of investors in India gained and did very well and made handsome return. Majority of investments in offices made tons of money, even after the rupee-dollar setbacks, because when they brought the money in, dollar was not so expensive and when they took the money out, the dollar was almost 30-40 % up. Their returns came down, but even then, they made money.
The yield compression did happen. We used to sell at 10 cap. It came down to 7.5-8 cap. Higher exit and sale values were possible. In the residential space, the Grade A developers never took private equity. Private equity went to all the new developers who were less experienced or developers who went from home market to another market or developers going from Delhi to Hyderabad and Chennai or back to Gurgaon, which is a home market. As a lot of capital invested in the residential segment did not make money, they suffered.
The capital that came to India during 2005 and 2008, with the exception of a few, was also opportunistic, speculative. However, the capital that is coming now is sovereign and patient and with long-term commitment to India. In the first burst, anybody who was of Indian origin, with an Indian name, even though that person was born and brought up in the U.S., was transferred to India and was considered an Indian capable of managing things here.
But all the people who now invest have local talent, local CEOs, local fund managers, local knowledge and expertise and that is helping them invest with the Tire 1 developer. Now, Tire 1 developer has started taking private equity. So that's a fundamental difference between then and now.
That must also have to do a bit with the changes in the policy regime at the national level?
Well, RERA had an important role to play. Also, the judicial system in India is respected. Plus, a lot of people are keeping arbitration clauses with Singapore, which is a very transparent market that is highly respected. So, the whole structure of deals is far more mature now.
And stable. In a certain sense, more stable… 
There was one more point. The returns that you got in the rest of the world were also very poor. The U.S. and Europe are bigger markets than India. The Indian market is much smaller, but for the size of capital that is coming to India, it is big money because our valuation of properties is less compared to values in New York and London and all. So, a certain allocation is always there for emerging markets, and India remains a promising emerging market. In fact, many consider this now as no longer an emerging, but a stable market. We have moved up the ladder.
That must be the reason why in Q1 this year we have seen something like $922 million coming in as investment. Well, when we look around, do you see technology percolating at the pace that it should? Do you see the industry as a whole trying to evolve with the times? Or do you see more laggards than those ready to experiment? 
India is such a large country that there will always be contradictions. But I believe in the last three to four years, what I have witnessed is something that I have never seen in the last 30 years. For the first time in my life, I've seen land valuations go down. The sector has gone through ups and downs, but land valuations had never gone down. But this time around that has happened. Also, for the first time, I've seen fly-by-night developers being put behind bars…
At many places… And industries…
Yes, not just developers. Fly-by-night businessmen, whether they are in airline, development, telecom or jewellery business, they are no longer being spared. No longer are they going to get away with it. A lot of developers, who were actually landowners, have gone back to being landowners. They don't want to be developers anymore because they have realized that money is in the land for them. As a result, consolidation, adaptation, discipline, regulation, professionalism, corporatization, everything that you ever wanted to achieve, is actually happening here. The ones who will not do it will no longer be a point of discussion because, in my opinion, they will cease to exist.
CREDAI and NAREDCO have urged the Government of India to recognise this as an industry. At a meeting with Finance Minister Nirmala Sitharaman, CREDAI leaders have also sought relaxation in delivery schedules, changes in the GST regime, and lowering of stamp duty in various States. What are your expectations there?
I believe the Central Government has been very supportive of the real estate sector and I think the State governments have not been so supportive. Except Maharashtra government, which had set some examples in the recent past as well. Maybe a few other States, selectively. I believe State governments have a big role to play because land and real estate development is under their jurisdiction. It is extremely important for the State governments to first appreciate the significance of the sector. That should happen before we even talk about industry status.
We have a very low tax base, right? The government is taxing the rich and luxury goods, but not doing anything about widening the tax base, which is the need of the hour. Will you take the taxes to 80%, like it used to be before the 80s? That is one solution, or you can reduce the tax rates. The government reduces the corporate tax but they have kept the individual tax rates high. Why? It just beats logic!
I hope the State governments take a cue that if you reduce the premiums, the fees and the time taken for approvals, real estate projects will become profitable and affordable. More supply means prices will remain low for customers and end users, and will be affordable, right? Without reducing the carpet area, which is not really being affordable.
On taxes again, take the GST on cement. What is the logic there? You want to build infrastructure, but you want to tax the basic ingredient that goes in heavily. It's a gravity-defying situation. Why is the Central government not doing something about it? That beats me. Tax reforms are critical. Likewise, you should not tax an inventory, which is stock in trade, based on a notional rental income. It has been challenged in the courts and there are judgments in favour of developers, but still the government is yet to look into it.
Second, what harm can one do if you and I want to buy second or third or fourth residential space as an investment? When you buy automobiles or stocks twice, thrice or four times, the government doesn't say you must pay a higher tax and capital gains tax. But if I have a second home, third home, fourth home and even if my parents are living in that home and I'm not earning any rent, a notional rent has to be calculated and I have to pay tax on it.
If I invest in an apartment and sell it later as I have some business expenses towards that purchase, I'm not entitled to recover those business expenses from my income, and I must pay short term capital gains tax. I'm an investor, it's a business. You can differentiate a business and you can separate the one who's only buying a home. Two separate things! So, why is the government determined to tax them?
Additionally, whenever the government rolls out any policy, you have to go through a graph of learning for five to 10 years because there are wrong interpretations, litigation, confusion, all of which places an unnecessary burden on the judicial system. Why do they have to make it so complicated? The exchequer, of course, wants to capture every possible revenue stream. But at what cost? Again, why keep the Wealth Tax when the revenue collected, as Mr. Jaitley once said, is only Rs. 1,000 crore, but you have to spend more than Rs. 1,000 crore to collect it. So, apply logic, reduce tax, reduce governance, simplify procedures, and reduce State levies. And, in the end of course, if you give this sector industry status, it will become better regulated.
Now, NAREDCO, CREDAI, FICCI CII, and many such organizations are going and speaking to the government in different languages and the government gets confused. What to take and how to prioritize? What if real estate is given industry status? There would be a Ministry and there would be a Central body and it will become easier. Besides the obvious advantages, there is another interesting angle which I must share with you.
Let's look at loans. Banks say we don't want to give loans for construction of shopping centres because they think it is bad business. Well, at least right now it is, but not always. Again, even if I am a reputed developer, AAA rated, with the ability to pay, I must pay the same interest, regardless of whether I take 50% or 70% of the loan sanctioned to me. If I take less than the loan to value, wouldn't the risk be low? Suppose you are buying an apartment having a price tag of Rs.2 crore. You take only Rs. 1 crore loan. Shouldn't the bank reduce the risk weighted on you? Your CIBIL score and your risk of taking less than half the loan on the property should give you much more attractive rates. That is not the case now. Why shouldn't my risk be low if I am taking a lesser loan? So, there are some very obvious questions that the RBI, Ministry of Finance, Ministry of Commerce, and the Ministry of Housing should look into. The government has come up with a lot of initiatives, but some very big buckets are still left unattended.
I think if you have a perspective of your own without waiting for your buyer to tell you what they want. I think that is a great thing…
Not only the buyers. I have been saying for last two decades that real estate is all about people, people, and people. Because real estate is purpose built, and the purpose is intrinsically linked to people. Take a shopping centre for instance, the purpose of the people is different, home is different, office is different, warehousing is different. But in the end, it is all about people.
On a larger note, real estate was once all about guts. You could sell whatever you built. Now real estate development is all about research, analysis, and demand-supply dynamics. Real estate is no longer a guts-based business, which was once the case, which was the reason why we suffered. You know, the sector was known for its herd mentality. Ek jo banayega, baki sub banana shuru karenge. They will not understand what the market actually requires. That's no longer the case today.