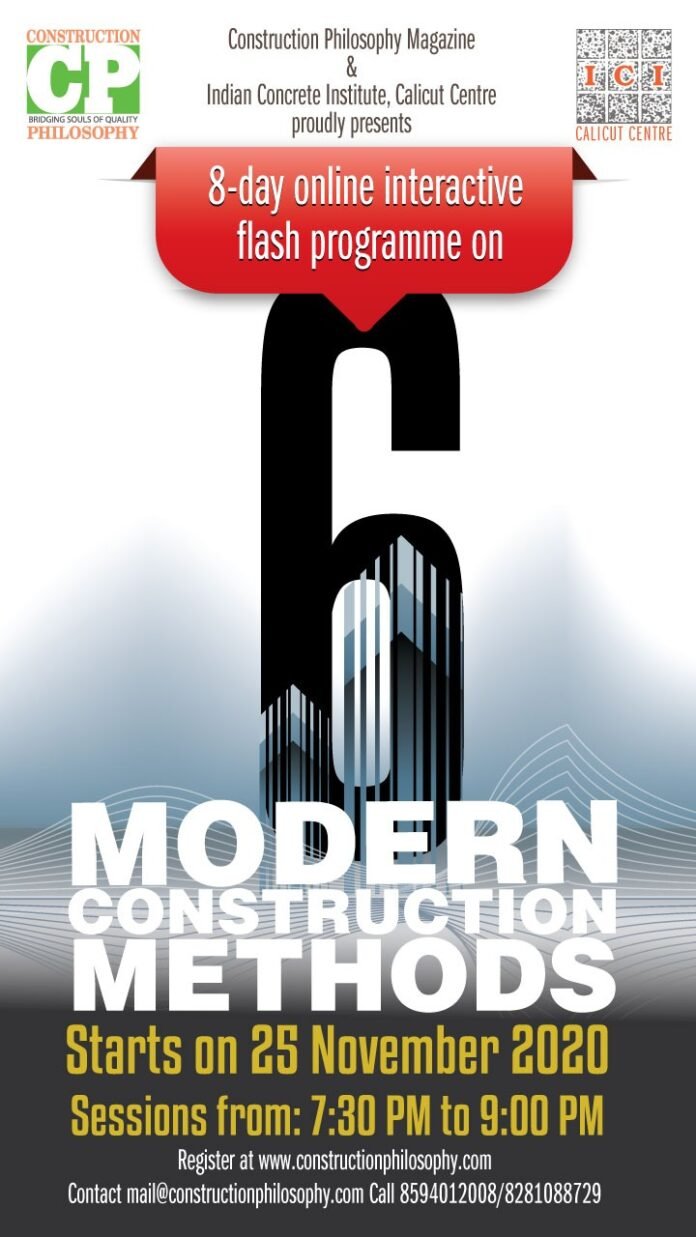 8-day online interactive flash program on
SIX MODERN CONSTRUCTION PRACTICES

The construction industry is evolving at a frenetic pace, with new technologies, materials and practices coming into play, bringing down costs, promising great economies and adding to the aesthetic value of structures filling every space in the growing urban landscape.
Construction Philosophy Magazine and Indian Concrete Institute, Calicut Centre are jointly organising an 8-day Online Interactive Flash Program on SIX MODERN CONSTRUCTION PRACTICES beginning 25 November 2020 for urban planners, designers, architects, engineers and aspiring professionals of tomorrow in all these areas. The sessions would be held from
7:30 PM to 9:00 PM every night.
The Flash Program would focus on Modularization of structures, Concrete 3D Printing, Light Gauge Steel Frame (LGSF) Structures, Prefab and Precast Concrete Structures, 3D Monolithic Precast, and Building Information Modelling (BIM).
AND MORE………..
The course fee is Rs. 1499/- plus tax. Special rates will be available for students and ICI Calicut Centre nominees. Register at www.constructionphilosophy.com. Contact mail@constructionphilosophy.com . Call 8594012008/8594012008/8281088729
"Certificates for participation will be issued by ICI Calicut Centre & Construction Philosophy"
RESOURSE PERSONS: 
Er. David Varghese John:
David finished his Bachelors in Civil Engineering at the National Institute of Technology in Jalandhar, (NITJ) and he pursued his masters at Coventry University, UK and he is presently working as a Structural Engineer for WSP in Hong Kong.
David's specialization is in developing modular systems using the DFMA (Design for Manufacturing and Assembly) Approach, for various structure extends across Hong Kong.
Er. Kantish. V. Chaurpagar: Is a BE in Civil Engineering and Masters in Structures and furthermore, master of business administration in international business and now perusing PhD from Pune University.
He is experienced in Design, Construction and managing projects and specialized in steel and cold form steel structures. He has designed more than 1000 midrise cold form structure around the globe. He has travelled more than 8 nations, to promote LGSF software (Framecad) and project management in LGSF Industry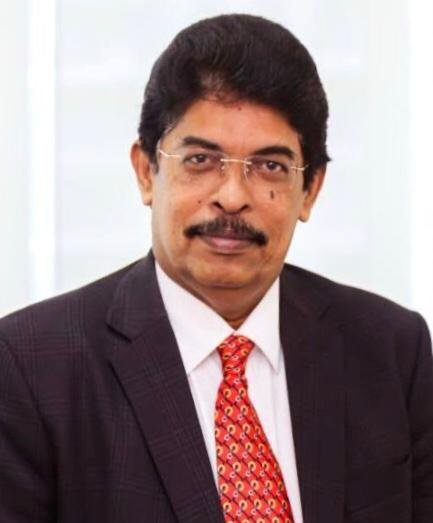 Er. Varghese Johns: 
General Manager for operations & Group head for education and improvement of Dubai Metal Industries Ltd.
He Graduated in "Civil Engineering" from Motilal Nehru Regional Engineering College, Allahabad, UP (Currently MN-NIT) in1980, and a fellow in the Institution of Engineers (India), Member "American Society of Civil Engineers" (ASCE) also Registered Professional & Chartered Engineer (India)
Mr. Varghese has around 40 years (35 years abroad, 5 years in India) of professional Experience in Civil / Structural Design, Technical & Projects Management with Consultants,  EPC Companies, Structural Steel EPC companies in the Middle East and Singapore for Oil & Gas, Industrial, Commercial and Residential Projects.
Er. S J VIJAY: Founder and Director OF HOMMission India P Ltd & Salmon Leap Ventures, Bangalore. He has over thirty five years of experience in Urban Infrastructure and now focusing on on-site Manufacturing of RCC Buildings with 3D Casting
His expertise includes,  3D Monolithic Precast, Advisory, Consulting, Collaborations, Business- strategy and Plan, Operations, Project Finance for housing projects in, Townships, Core & Urban Infrastructure, Solar energy, Digital Utility, Banking sectors.
Er. Jeesh venmarath:
Er. Jeesh Venmarath graduated from KVG Engineering College, Karnataka in 1998. He is the founder of  Formexx Space Frames and Structure which was the pioneer in space frame in Kerala. He is also the founder Director of Formexx Consultants which aimed for excellence in construction engineering and management solutions. The consultancy along with its strong backbone, Mr. Jeesh Venmarath imbibed the vision of the client and took charge of the project Concept to Completion basis, (C 2 C). He was involved in construction projects in the middle east with DREAMWAY GCC LLC as a technical consultant. He identified the need of safer, faster and sustainable construction technology using LGSF ( light gauge steel frame ) systems. In 2013he founded ECONSTRUCT smart structures LLP a company which dealt with light gauge steel frame structures which was one of the futures construction technique. He conducted the feasibility study on the potential of LGSF structures along with IIM Kozhikode. His team was trained in IIT Mandi on the execution of LGSF structures and implemented
Er. Adithya VS:
Adithya VS is the co-founder and CEO of the startup TVASTA. Being a person who enjoys the thrill of building something new, he went for the choice of being an entrepreneur rather than taking up a job. He is an alumnus of IIT Madras and graduated in bachelor's in mechanical engineering and his Master's degree was in  Product Design.
TVASTA focuses on providing Industrial solutions in the 3D Printing sector. Adithya is currently leading the effort to develop 3D printers and solutions in the area of Construction. Tvasta is currently associated with construction majors in the US and other countries to construct 3D Printed houses, toilets and various other structures. Tvasta won the 2018 best startup award in Construction from the Construction Industry Development Council (CIDC) and achieved best startup of the year award from Technology Development Board as well.
Course fee: Rs. 1499/- plus tax.
(Special rates for students)
FOR ASSISTANCE, please write to us mail@constructionphilosophy.com
Call 8594012008/8281088729. CLICK THE IMAGE BELOW TO REGISTER: