Flash Program on Steel & Concrete "Composite Structures"
Structural Members that are comprised of at least two unique materials are known as composite Structures. The fundamental advantage of composite components is that the properties of every material can be joined to shape a solitary unit that performs preferable generally speaking over its different constituent parts. The most widely recognized type of composite component in construction is a steel-concrete composite.
As a material, concrete functions admirably in compression, however it has less resistance in tension. Steel, be that as it may, is solid in tension, in any event, when utilized distinctly in generally modest quantities. Steel-concrete composite components utilize concrete's compressive quality close by steel's resistance to tension, and when integrated, this outcomes in an exceptionally proficient and lightweight unit that is normally utilized for structures, for example, multi-story structures and extensions.
Topics Covered:
Part -1
History & Historical figures in Structural Engineering (Steel)
Evolution of Ferrous metal & Steel work design, Father of tubular & composite structure
Various types of Structural Systems (Tube & Composite)
Advantages & Dis advantages of Steel (Properties)
What is a composite material..?, advantages of composite structure design.
Design philosophy, Optimization & Documentation (fabricator designs) & Design & Detailing Softwares
Codes / References in steel design, Indian, British, American & ESDEP
Steel properties, Parallel  flange profile sections (SAIL)
Composite Structural Systems & Benefits
Details with picture slides of  composite Floor & Beams, Connections, Frames, bracings, Shear walls & Services Integration (Advantages)
Cost Benefits of Composite construction process
Sustainability
Benefits of adaptability & Future proofing
Life Cycle Cost Assessment.
Part -2 Comparison Aspects , RCC vs Composite
Seismic Performance
Deformations
Resultant forces and Moments, Cost, Weight
Steel Corrosion and prevention (painting)
Fire Proofing-
Why Protect steel from Fire…?
How do we protect Steel from fire..?
Vermiculite fireproofing
Intumescent Fireproofing
Fire Design
Corrosion & Fire proofing (Combined)
Types of Cementitious fire proofing
Gypsum board fire proofing
Resources & Fabrication facilities
Fabrication Process with various fab shop machineries
Case Study & Discussion
Design Management for Composite Steel Structure
RCC vs Composite steel structure
Grid sizing
framing considerations
Lift shaft / MEP shaft considerations
Staircase design
Façade detailing
Provisions for MEP services
Pre-defined sleeves & cut-outs for services routing
Beam depth in services rooms
Installation of services
Dependency of RCC & structural steel members
Fire proofing of steel members
Vermiculite paint
Intumescent paint
Lessons learnt & Take on composite steel structure
RESOURCE PERSONS:
Er. Varghese Johns (FIE)
GM, Operations & Group Head for Training and development,
Dubai Metal Industries Ltd, Sharjah UAE.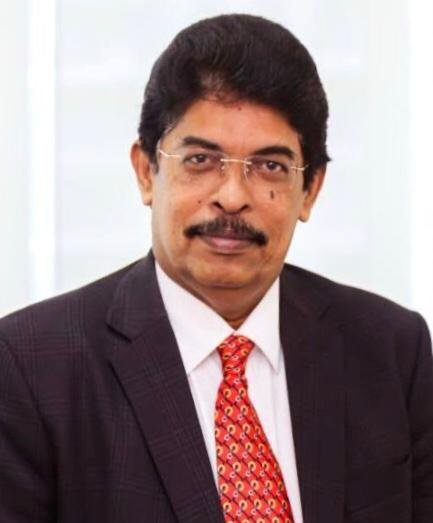 He Graduated in "Civil Engineering" from Motilal Nehru Regional Engineering College, Allahabad, UP (Currently MN-NIT) in1980, and a fellow in the Institution of Engineers (India), Member "American Society of Civil Engineers" (ASCE) also Registered Professional & Chartered Engineer (India)
Mr. Varghese has around 40 years (35 years abroad, 5 years in India) of professional Experience in Civil / Structural Design, Technical & Projects Management with Consultants,  EPC Companies, Structural Steel EPC companies in the Middle East and Singapore for Oil & Gas, Industrial, Commercial and Residential Projects. Working with Engineering Consultants for ARAMCO (Saudi), Employed by Oil & Gas companies ADNOC (Abu Dhabi) & Dolphin Energy (Qatar) and  EPC Co. Rotary Engineering Ltd (Singapore) as Engineering Director, working more than 15 years  with Specialized Steel structural engineers & fabricators like Cleveland Bridge-Dubai, Tiger Steel – Sharjah, Hidada Ltd -Jeddah, KSA etc.
He is currently working as General Manager (Operations) & Group Head training and development with Dubai Metal Industries Ltd, Sharjah, UAE, engaged in EPC projects for special Steel & Architectural structures. Prior to that with Structural Consultant GEO Structures (P) Ltd, Cochin as Vice President (Technical) associated with Smart City (KMRL) and other projects.
Ar. Jatin Shah,
National Director, Colliers International India.
Jatin is a seasoned real estate professional with over 18 years of experience in India. Jatin has managed the entire aspect of project lifecycle development in multiple Projects executed across India and also for International projects. With domain expertise of design, procurement cost and overall development he has collaborated and led teams to provide value-add suggestions and inputs on technical due-diligence. Sharing his expertise, knowledge and leadership skills across multiple Projects, Clients have benefitted through the suggestions made by Jatin on cost, time and buildability.
Er. Sumit Chauhan
Project Manager, Colliers International India
Sumit is a Building engineering & management professional with architecture background having an overall experience of 8 years. An experienced Project Coordinator in Greenfield projects, with various structural systems (RCC framed structure, precast & composite steel structure). Sumit worked at Synergy Property Development from 2013 and became a part of the Colliers International team after acquisition in 2019. His key strengths include process implementation, driving force for day to day operations, project planning & management.
Er. Utsav Shah
Director, DUCON Consultants Pvt. Ltd.
Mr. Utsav Shah is the Executive Director at Ducon Consultants Pvt Ltd, a Structural Design firm established since 32 year, with a strength of over 100 people.
His drive to take up challenging and complex projects has resulted in the organization creating a wide range of iconic projects. He looks after the structural design department at DUCON Consultants and manages projects spread across various cities. DUCON has its offices in Ahmedabad, Bengaluru and Surat with running projects in over 16 different cities. He continually works and collaborates with International and Indian architects, developers, contractors, peer review consultants, government approval departments and corporate teams.
He has designed the tallest building of Gujarat and the deepest basement of Gujarat (The World Trade Centre -122m tall & Venus Stratum – 5 basements). He has huge experience working on RCC high-rise structures (over 70m), Steel-composite high-rise structures, Precast Structures, Auditoriums, Hospitals of up to 1200 beds, Institutional campuses of over 500acres, Hotels of more than 150 beds as well as special structures.
He has worked on several high-rise steel composite structures including the ongoing world trade Centre annex at Bangalore, MEGA for phoenix Hyderabad, Lithop for phoenix Hyderabad and has been involved as structural peer review consultant for 285-Financial District @ Hyderabad, H-09 Avance Business Park @ Hyderabad and many more.
Mr. Utsav Shah has also designed several large span and complex steel structures for institutional buildings as well, most notably the 30m central plaza of aquatic center @ Science city, Ahmedabad, 30m sphere/planetarium for the space science gallery @ Ahmedabad and a 32m spanning steel veirendeel library for IIM-Udaipur.
Mr. Utsav Shah and DUCON Consultants are registered with over 20 civic bodies, corporations and municipal bodies as structural engineers. DUCON Consultant is also registered as authorized structural consultant with GIFT City for buildings up to 122m.