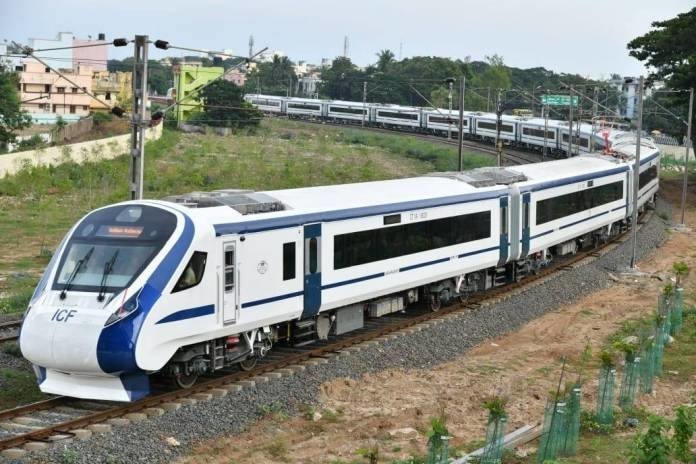 The Central government has approved Kerala's 531-km semi-high-speed railway line from Thiruvananthapuram to Kasaragod.
The project, which is expected to ensure fast end-to-end connectivity between the two destinations, reduce congestion in the State's road network and make travel hassle-free, is estimated to cost about Rs. 56,000 crore, including the cost of land acquisition. The project, titlted Silver Line, will have 10 stations.
A feasibility study report on the project, submitted by Paris based consultancy firm Systra recently, says that the project with dedicated railway lines to Thiruvananthapuram International Airport and Cochin International Airport is 'feasible and financially viable'. The semi high-speed trains will run at the speed of 130-180 km/h to cover the North-South corridor. Though the maximum speed for the rail line is proposed at 200 km/h, the trains will run at a maximum of 180 km/h. The new generation engineless semi high-speed train Vande Bharat Express (Train 18) has been proposed to ply on the corridor.
The project has been proposed through thinly populated areas to lessen displacement of people and would require only 1,200 hectares of land. The final location survey will be done as the land from Railways and the Cochin International Airport Limited (CIAL) is needed for laying the line and constructing the stations.
The report says that, initially, train sets with nine cars will be introduced and later it will be extended to 12 and 15 cars. The coaches will be made of aluminum under the 'Make in India' program.
The project would seek to tap solar energy. As much as 21% of road traffic is to be shifted to rail and economic savings have been worked out to be the equivalent of 1.8 lakh metric tonnes of carbon. The construction work on the project will begin in 2020. Work on the Detailed Project Report has been initiated.